Skip to product information
Hair Growth Supplements - Original Formula
$90.00
Unlock your hair's full potential with our hair growth supplements. Experience the transformative power of science-backed ingredients for visible results in 3-6 months*.
Enhance hair health, stimulate hair growth, strengthen strands, and reduce thinning all while enjoying added beauty benefits that support energy, mood, and immune support.
Subscribe and Save. When you subscribe your first shipment will arrive in our beautiful custom glass jar with a 30-day supply. Monthly refills are delivered to you via free shipping (US only) in our eco-friendly refill tubes and save you $20.
*Results may vary.
Shipping Policy:
We ship to all locations within the United States and internationally.
Orders are typically processed and shipped within 2-3 business days.
Shipping rates will vary based on the size and weight of the item(s) and the destination.
Expedited shipping options are available for an additional cost.
Step Into Thicker, Healthier Hair

REDUCED SHEDDING
Fortified with Vitamin D, our supplements bolster hair strength, reduce shedding, and promote overall health.

ENHANCED HAIR THICKNESS
Enriched with biotin and key nutrients, our supplements enhance hair thickness, combatting thinning hair.

PROMOTES HAIR GROWTH
Loaded with amino acids, our supplements stimulate healthy hair growth.

IMPROVED SCALP HEALTH
Essential vitamins and minerals in our supplements promotes optimal scalp health and hair growth.
All Good Hair Has A Story
Experience visible results in 3-6 months. Results may vary.
McKenzie T.

After taking Goldie Locks, my hair has been completely restored to how it was before my hair loss. Even though I'm not getting any younger, I feel like my hair just keeps getting better the longer I take these supplements.

Anyone who knows me, will say I'm always on the go...and they're right! But the problem with always being on the go, is that you quickly run out of gas. Being consistent with my Goldie Locks supplements has eliminated those late afternoon crashes. It's actually helped to balance any midday cravings as well, something I didn't anticipate from taking a hair supplement. But Goldie Locks is really just so much more than just a hair supplement. It acts as my daily vitamin, my mood balancer, and my energy stabilizer….all in just four pills."

---

Cassidy L.

"I have never had great hair. It's always been fine and thin. I have never received comments on my hair, but the past month I have gotten so many compliments on my hair and how full it is."

---

Brenda B.

"My crown is getting longer. It usually breaks after I color it and it hasn't because it's longer and thicker. I've taken a lot of quality supplements and this is definitely a favorite!"

---

Kimber S.

"My hair is growing longer & faster, plus I have lots of regrowth happening. I used to suffer from dry scalp and flakes showing up— but now I don't have to worry about flakes showing up throughout the day."

---
0 %

NOTICED IMPROVED
HAIR HEALTH*

0 %

EXPERIENCED ACCELERATED HAIR GROWTH*

0 %

REPORTED SIGNIFICANTLY LESS SHEDDING*

0 %

SAW VISIBLY IMPROVED
HAIR DENSITY*
* RESULTS BASED ON AN IN-HOUSE STUDY OF 40 WOMEN USING GOLDIE LOCKS® SUPPLEMENTS DAILY FOR 6 MONTHS. THESE STATEMENTS HAVE NOT BEEN EVALUATED BY THE FOOD AND DRUG ADMINISTRATION. THIS PRODUCT IS NOT INTENDED TO DIAGNOSE, TREAT, CURE OR PREVENT ANY DISEASE.
All Good Hair Has A Story
Experience visible results in 3-6 months. Results may vary.
Emily P.

"The flakiness and dryness of my scalp have improved. I'm no longer getting handfuls of hair in the shower. My thin spots are gaining more coverage and new growth is appearing at my hairline peaks! I am much more comfortable pulling my hair back, as I don't feel like the bald patches on my temples are as visible as they were!"

---

Gina M.

"My hair is growing faster than it ever has! I'm 51 and my hair is growing better than it did in my 20's! I have hardly any hair coming out when I wash it. Before I was a little alarmed at how much was coming out.

These vitamins are by far the best I have ever tried. Nothing else even comes close, and I've tried everything. The holy grail of hair vitamins!!"

---

Kathy B.

"I'm amazed with how much thicker and nicer my hair is!"

---
Real Women. Real Results.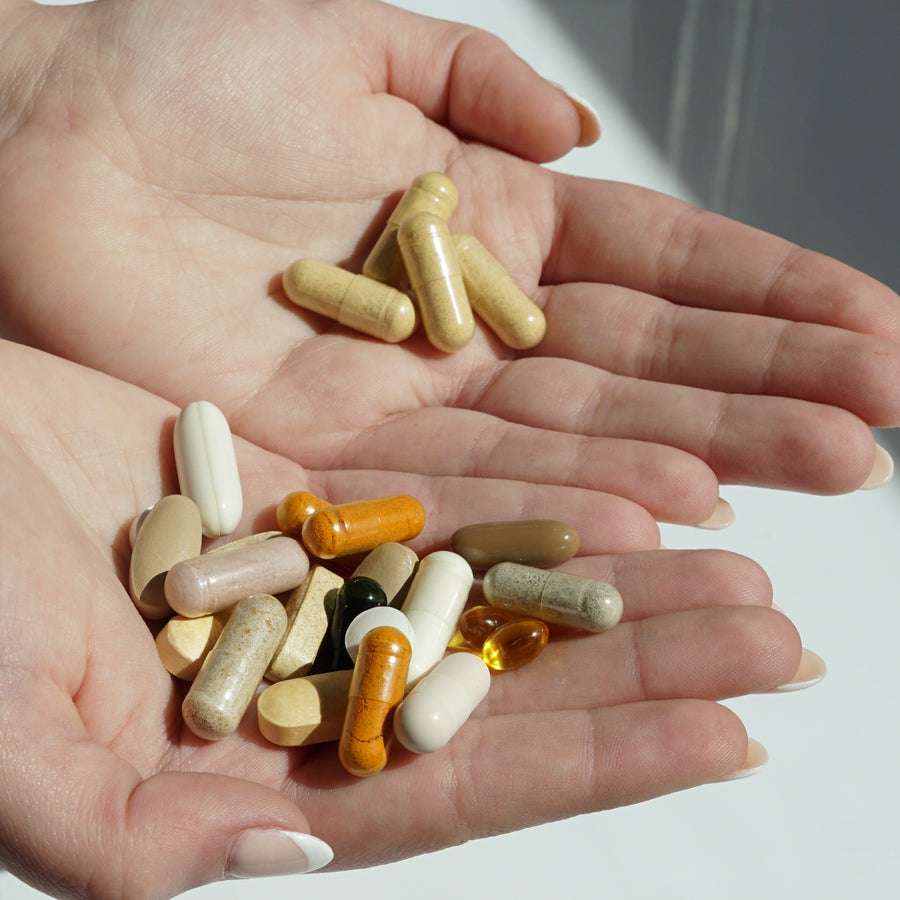 20+ Supplements In Just 4 Capsules
Our hair growth vitamins take the place of 20+ over the counter vitamins. With our focus on whole body wellness, mood, energy, and of course hair health, we're proud to say that gone are the days of cluttered shelves and subpar results.
Powerful Ingredients
High quality, natural ingredients to enhance the beauty that's already inside you.
Collagen

Supports stronger, healthier hair
Stimulates hair growth
Improves skin hydration, firmness & elasticity

Biotin

The ultimate beauty booster, biotin is an essential nutrient that helps support healthy hair, skin, and nails.

Stimulates hair growth
Improves hair volume & shine
Promotes scalp coverage for thinning hair
Helps boost energy & mood

Ashwagandha

Clinically shown to help reduce stress and regulate cortisol levels, enhance focus and mental stamina, reduce irritability and stress-related cravings.

Fights free radicals to reverse aging & dull hair
Increases energy levels
Help to reduce stress & anxiety
Improves brain function

Zinc

This antioxidant nutrient is critical for immune function, healing, and our body's inflammatory response. Also helps to improve mood and cognitive function, hair growth and repair.

Plays an important role in hair growth & repair
Hair loss is common with zinc deficiencies
Helps keep hormone levels regulated
Improves mood & helps with fatigue

Rosemary Extract

Stimulates hair growth & blood circulation to the scalp
Prevents baldness & stimulates new hair growth in balding areas
Slows graying of hair

Vitamin D

Aids in creation of new hair follicles and helps maintain hair thickness, while preventing existing hair from falling out prematurely.

Fights inflammation
Plays a major role in producing new hair follicles
Aides in overall hair thickness
Helps prevent premature hair loss

Turmeric Curcumin

Powerful anti-inflammatory effects and a potent source of antioxidants.

Powerful anti-inflammatory & anti-microbial properties
Soothes scalp & rids build-up that block hair follicles

Holy Basil

Beneficial impacts on stress, detoxification, anxiety, and skin health.

Helps prevent hair loss due to changes in hormones levels
Anti-depressant & anti-anxiety properties
Induces relaxation while providing sustainable, lasting energy

Vitamin C

Is a key antioxidant that helps maintain a healthy immune system and overall health.

Promotes overall mood improvement
Boosts immune system
Reduces hair loss & improves hair growth
Helps fight stress related diseases

Selenium

Supports the body's natural antioxidant systems, which help to protect against free radicals and supports healthy aging - helping you look and feel your best.

Kills off dandruff causing fungus
Helps regulate thyroid which helps regulate hair growth
Supports cognitive function
Prevents damage from free radicals

Bacopa Leaf

Stress protective effects as well as positive effects on memory and learning.

Rejuvenates the scalp and promotes new hair growth while reducing premature hair loss
Boosts cognitive function

Ginkgo Biloba

Works to increase blood flow to the brain, delivering more oxygen and nutrients the brain needs to function at its best. It can also promote healthy aging, while supporting memory and attention.

Improves the condition of your scalp encouraging hair regrowth
Reduces anxiety, stress, + cognitive decline
Helps improve memory, focus, + attention span
Fights inflammation

Lavender Powder

Helps generate new cells speeding up hair growth
Prevents hair loss
Helps to boost mood & immunity
Promotes better sleep

Gotu Kola

Regarded as one of the most important rejuvenative herbs, Gotu Kola promotes stress and anxiety support. As well as improved memory, focus, and attention span.

Stimulates hair growth
Boosts cognitive function
Improves circulation

Vitamin A

Supports a healthy immune system. Plays an important role in supporting a healthy scalp and healthy growth.

Supports a healthy immune system
Nourishes your scalp
Energy production & maintenance
All cells need Vitamin A for hair growth

Black Pepper Extract

Hair growth stimulating properties and dandruff fighting properties.

Hair growth stimulating properties
Dandruff fighting abilities
Improved brain function
Can help fight signs of graying hair

Peppermint Powder

Invigorates circulation & improves hair growth, while preventing hair loss
Boosts alertness & mental focus
Helps to provide headache & migraine relief

Iodine (from organic kelp)

Stimulates the thyroid, which helps in boosting your hair growth and maintaining its strength. Works to maintain optimal energy levels while stimulating the immune system.

Derived from organic kelp
Anti-inflammatory properties
High levels of antioxidants
Promotes a healthier scalp & stronger hair
Real Results, Real Fast
Here's what to expect over the next 6 months.
1-2 Months
Creating the foundation of healthy hair
Less hair shedding and breakage
Faster hair growth
Less shedding
Improved scalp health
3-5 Months
Noticeable difference in hair growth & thickness
Breaking & thinning continues to decline
Immunity benefits
Stress levels minimized
Improved energy, focus & clarity
6+ Months
Visible improvement in hair growth, thickness & strength
Hair continues to become stronger, healthier & more nourished
Enhanced long term energy & mood
Feeling & looking your best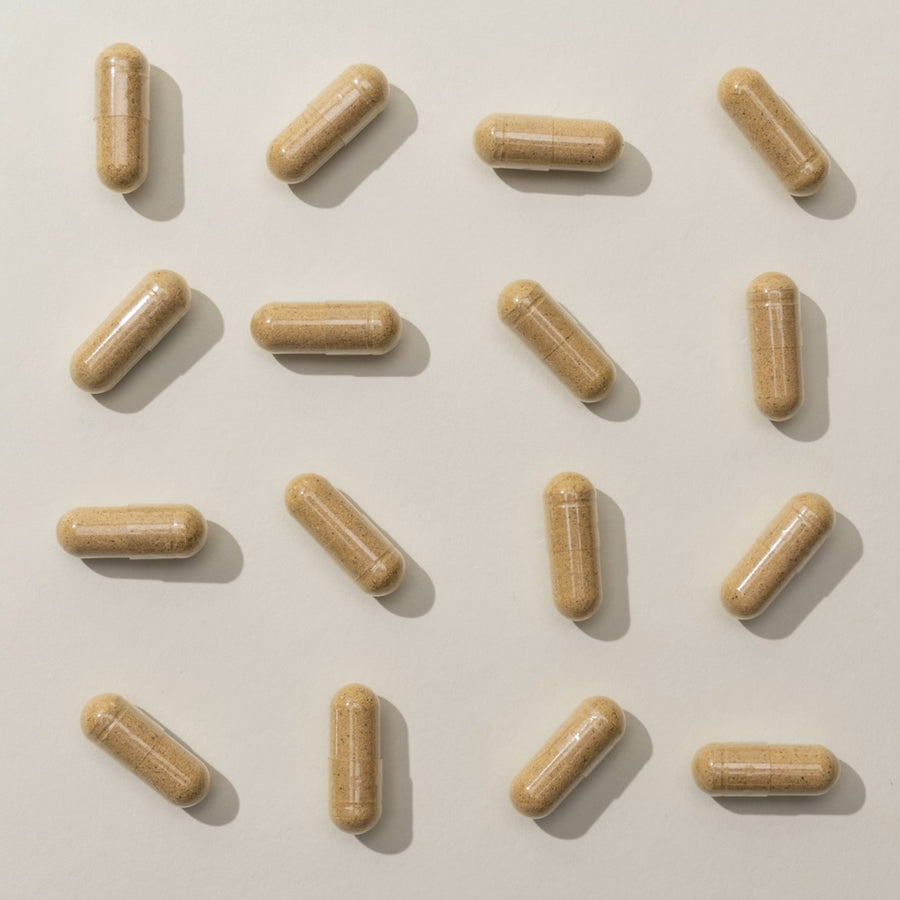 Your Daily Routine
Enhance your hair's health and beauty by taking four (4) capsules each day.
Choose a time that fits best with your schedule, remain consistent, and watch as your hair transforms and reaches its peak potential.
A Hair Supplement With Benefits…

Find balance and get the most out of your day, all while looking and feeling your best.
You may notice a range of additional benefits:
Mood

Strees & Anxiety

Sleep

Immune System

Memory & Focus

Skin & Nails

Overall Wellness

Energy
Find Your Happy Place

Helps to improve and stabilize your overall mood.

Find Your Peace

May help to alleviate everyday stress and balance stress hormones.

Get Your Beauty Rest

Encourages a more restful, quality night's sleep.

Build Your Resistance

Powerful anti-inflammatory and anti-microbial properties may help to boost your immune system

Sharpen Your Mind

Helps improve memory, focus and attention span.

Get Glowing

Enhance skin, nails and joint health - along with many other anti-aging benefits

Live Better. Feel Better

Designed specifically to help support the integrity of your hair and overall wellness.

Supercharge Your Day

Helps to increase energy levels and provide sustainable lasting energy. Combats physical + mental fatigue.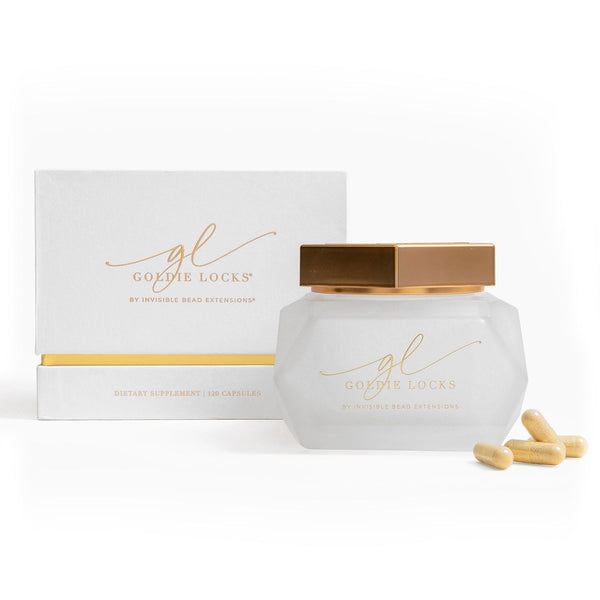 Hair Growth Supplements - Original Formula
$90.00
Questions
Consistency is key - so whatever time of day works best for you. Most people find it easier to remember to take their supplements with a meal, so they do it around the same time each day.
While you don't have to take it with food, a lot of people do as a reminder to take their supplements (e.g., with breakfast, lunch, etc.). You can optimize absorption of fat-soluble vitamins like A, D, and E by taking them with food.
We always recommend consulting your doctor before starting any new supplements.
We always recommend consulting your doctor before taking anything while breastfeeding or pregnant.
Yes, we have naturally occurring and effective DHT blockers in our supplements such as rosemary and bacopa.
Our Enhanced Formula contains 25mg of Broad Spectrum CBD, but otherwise contains all of the same ingredients as our Original Formula. Simply put, our Enhanced Formula contains Broad Spectrum CBD, the Original Formula does not.
Deciding what formula is best for you is entirely up to you and something we highly recommend discussing with your medical provider. If you are curious if CBD is a right fit for you we encourage you to do your homework and learn more about the benefits of CBD. We've created a <a href="https://goldielocks.com/blogs/news/cbd-hair-growth">blog post</a> to help answer any questions you might have as well.
Goldie Locks® supplements do not contain any hormones and will not make the hair on your face grow longer or thicker.
In the process of making your hair long and lustrous, Goldie Locks® supplements may affect your laser hair removal progress as they can stimulate hair growth. Everybody is different and will respond differently, however, you may need a few extra touch-up sessions as a trade-off for the benefits you'll receive with your hair, mood, energy and overall wellness.
As powerful as Goldie Locks® supplements are, there are certain situations where hair growth is not possible through supplementation. If a follicle has closed, disappeared, scarred, or not generated a new hair in years, then a new hair growth unfortunately may not be possible. However, our supplements aren't just made for hair… So no matter what your follicle situation may be, there are a wide variety of benefits you can experience when taking these supplements daily.
Absolutely! Goldie Locks® was formulated based on the needs reported by most women - but are effective for men too! In fact, many men have had success with our supplements.
Store in a cool, dry place away from heat sources and direct sunlight.
All of our supplements are sourced from high-quality ingredients and undergo rigorous testing to ensure their purity and potency. They are manufactured in a first-class facility here in the USA that is GMP-certified, meaning it's received independent certifications for Good Manufacturing Practices.
We find raw materials from the highest-quality sources all over the world—geography alone does not determine quality, but particular plant compounds can be properly grown and harvested only in specific geographic locations. All of the supplements are manufactured in the US at a GMP-certified facility and are thoroughly 3rd party tested.
The FDA regulates prescription and over-the-counter drugs, not supplements. That said, Goldie Locks ® is manufactured in the USA in a facility that adheres to the requirements of the United States Food and Drug Administration (FDA) and uses Current Good Manufacturing Practices (CGMPs) to ensure its safety.
Consistency is key for optimal results - however, we understand life happens, If you miss a day or two don't stress - just simply start taking them again.
That is a question you will want to ask your doctor. However, because of the extensive vitamin, mineral, and herbs in our supplements, many people have replaced or reduced their current supplement routine when using Goldie Locks® Supplements.
This varies with each person who takes vitamins, as supplements (like food, exercise, etc.) work slightly differently and at different speeds in every body. It's important to note that you likely won't suddenly feel a stark difference but instead a gradual improvement over time. View our What To Expect section on this page for more details.
Your first order is packaged in a glass jar and all subsequent orders are packaged in eco-friendly refills to refill your glass jar. These not only reduce carbon footprint and reduction in packaging waste, but also save you money each and every month. You'll receive your refill shipments based on a 30 day frequency starting from when your order is marked delivered. Visit your account page for more information about your upcoming deliveries.
Free! Shipping is on us (US ONLY). One of the perks for signing up for subscriptions is complimentary shipping.
You can modify your subscription plan right from your account page at any time after your first three months—just click on Subscriptions. Any changes you make will be reflected in your next shipment, except for changes initiated while an order is in process (i.e., when your card has been charged but you have not yet received your shipment), which will be reflected after the current order has been completed.
Yes, you can change your payment at any time in your account section. If you do not make any changes, the payment method you selected for your first order will be used on all subsequent orders.
You can cancel your subscription right from your account page—just click on Subscriptions. You may also cancel by contacting Goldie Locks® customer service at hello@goldielocks.com. If you cancel before your card is charged for the next recurring payment, then your subscription will terminate automatically and Goldie Locks® will not charge your payment provider for any subsequent subscription periods. If you cancel while an order is in process (i.e., when your card has been charged but you have not yet received your shipment), Goldie Locks® will continue to process your order; your subscription will terminate automatically after the last order has shipped. Of course, we'd be sad to see you go, and as always, feel free to share any feedback with us at hello@goldielocks.com