Skip to product information
Blow Dry Spray 450° Style Extender
$52.00 Sold out
Say goodbye to heat damage and fleeting styles—our Blow Dry Spray 450° Style Extender is a revolutionary heat styling product featuring our groundbreaking SMP-4 Technology. This highly concentrated formula offers heat protection up to 450°, frizz control, 48 hour style memory, and reduces blow dry time by 50%. Mist on hair before using any heat styling tool.
Shipping Policy:
We ship to all locations within the United States and internationally.
Orders are typically processed and shipped within 2-3 business days.
Shipping rates will vary based on the size and weight of the item(s) and the destination.
Expedited shipping options are available for an additional cost.
Hairstylist Approved
Are you tired of your curls and blowout falling flat? Learn how to extend your style for up to 48 hours, cut your blow-drying time in half, and lock out frizz.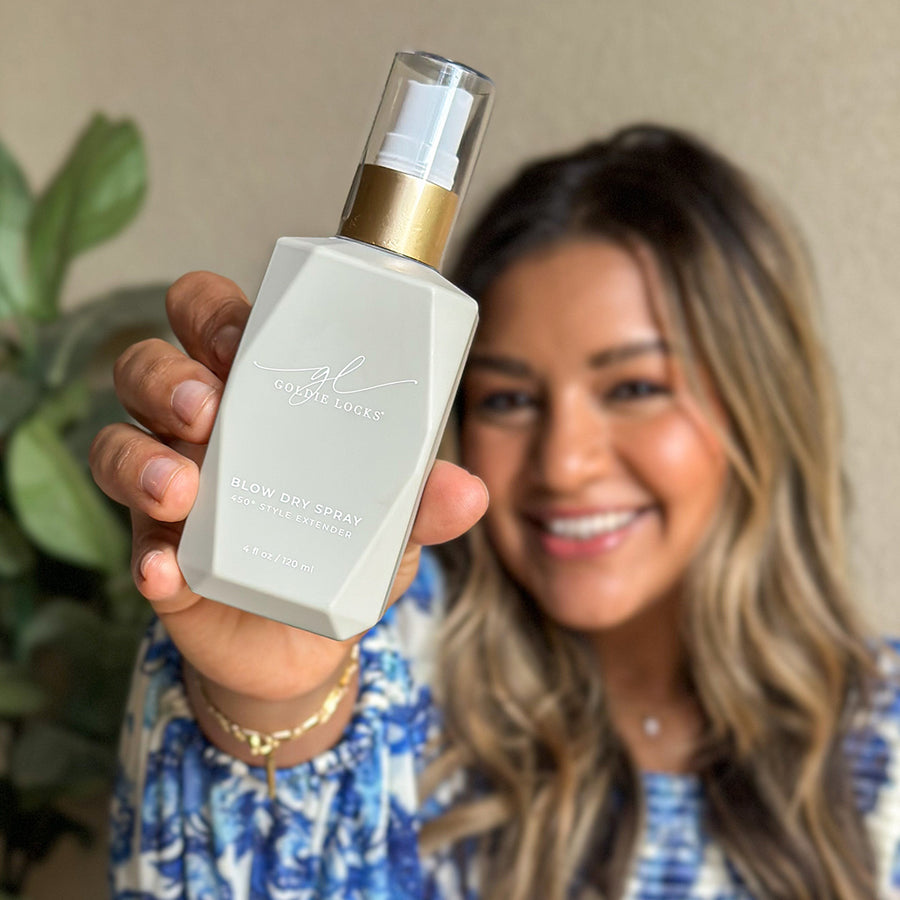 Style Memory Protection
SMP-4 Technology is like a 4-in-1 game-changer for your hair, providing you with four key benefits:
Heat Defense Up to 450° F
Locks Out Frizz & Humidity
Style Memory for Up To 48 Hours
Speeds Up Blow Dry Time By Up To 50%
Extend Your Hairstyle
Ultimate Heat Protection: Offers unmatched thermal protection up to 450 degrees Fahrenheit, safeguarding your hair from heat damage during styling.
Frizz & Humidity Control: Advanced technology locks out frizz and humidity, ensuring your style remains sleek and polished in any weather condition.
Long-Lasting Style Retention: Our formula provides up to 48-hour style retention, allowing you to maintain your perfected style for up to two full days.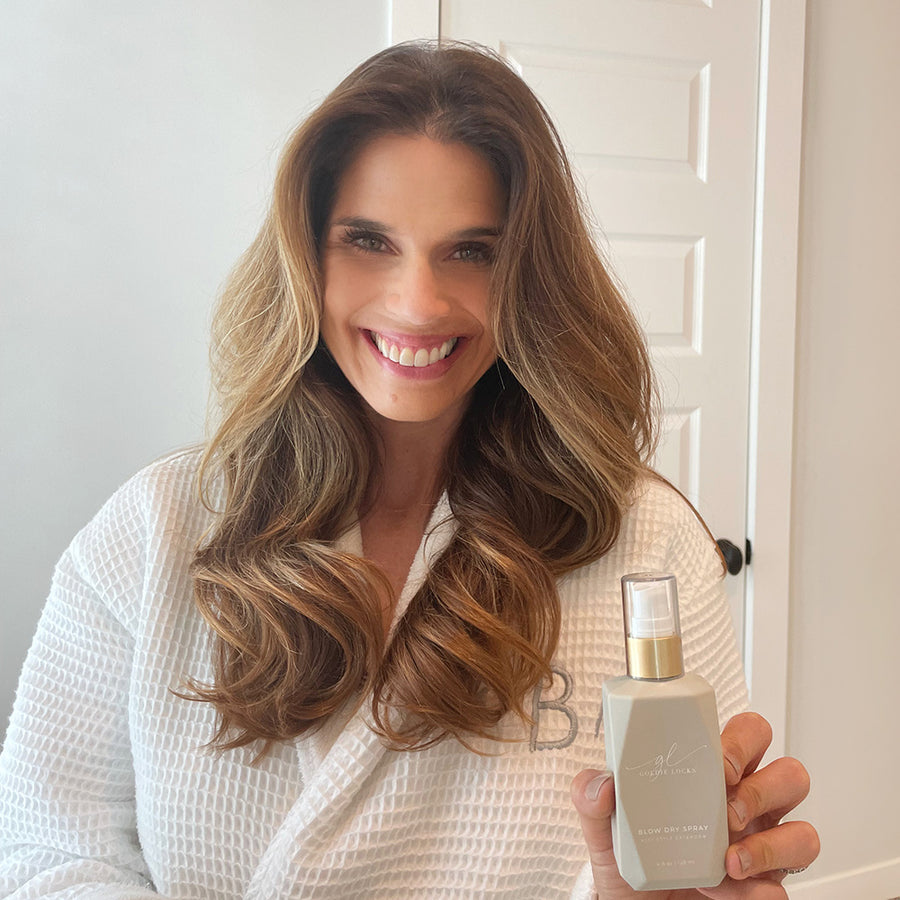 Get Amazing Results
Reduces Blow-Dry Time: Significantly speeds up blow-drying time by up to 50%. 
Highly Concentrated Formula: One application lasts through your entire styling routine, making reapplication unnecessary.
Versatility: Compatible with any heat styling tools and suitable for all hair types, making it a versatile addition to your hair care routine.
@thebubblyblonde

@emily_snips

@brooxie_

@yoga_in_the_oaks

@maradwarren
Blow Dry Spray 450° Style Extender
$52.00 Sold out
Questions
Blow Dry Spray offers 450 degree heat protection and only needs one application. It keeps and seals effects of flat irons or curling irons to ensure hair stays smooth, straight, frizz-free. Smoothing cream will help all hair types become more manageable but itself will not straighten hair or keep the effects of irons.
Yes! It offers heat protection up to 450 degrees.
No, this is a concentrated formula so no need to reapply. Apply it once to last you through all your heat exposure.
No, if your hair feels or looks greasy you've used too much. It is very concentrated and a little goes a long way. You will not see or feel this product when you apply it juuust right.
If you let your hair air dry and did not already apply it you can. Just remember dry hair needs even less product so it's best to use less.
After you apply Blow Dry Spray, blow dry then iron, we've seen styles last up to 48 hours. A few lasted even longer. The trick is to use your iron (straightener or curling iron) to get the longest last result.
No, this product extends the iron results you create. That is either straight or curled with a curling iron. It will not chemically restructure your hair.
Yes! Once you complete your style rest assured knowing frizz will repel, giving you longer lasting results.
It depends on your hair type. Naturally curly hair may benefit from using; leave-in conditioner, smoothing cream and blow dry spray. While naturally straight hair wanting to keep a curl or ironed wave may benefit from using leave-in conditioner and blow dry spray alone. In short: never skip your leave-in.
You may not need to use the iron again tomorrow if you're looking for the same end results. However, if you are looking to touch up your hair or add a new curl you could reapply a very light amount, but don't need to.
To get heat protection or speed up blow dry time- no. To get the longest style memory and repel frizz, yes.
No, this blow dry spray does not contain protein
Yes! It is gluten free, vegan and free of sulfates, parabens, and DMDMh
No. While the formulation is made to help strengthen weak points on your hair strands it does not attach to itself repeatedly. It will not build up on your hair. With that, ensure you are properly and regularly shampooing your hair to prevent any product or build up to occur on your hair or scalp.
On clean, towel dried hair, apply focusing on mid strand through ends and comb or brush through for even distribution. Avoid spraying directly on the scalp for best results. Follow with a blow dryer and seal in the results with either a flat iron or curling iron to get the most style memory and banish frizz.
All hair types that are exposed to heat. Other hair types that will thrive are any with frizz or texture that you are wanting to control.
Your hair will feel weightless yet perfectly managed. Get ready for the softest, most silky hair you've ever run your hands through!