Skip to product information
Signature Serum
$56.00
Some say it's magic, others call it science. We prefer to think of this best-seller as your hair's secret superpower. This luxuriously rich yet lightweight formula penetrates deeply into each strand, providing instant shine and intense nourishment, resulting in irresistibly smooth, healthy hair that glows. Strengthening, hydrating, and taming frizz and flyaways, this serum is perfect for all hair types & textures.
Shipping Policy:
We ship to all locations within the United States and internationally.
Orders are typically processed and shipped within 2-3 business days.
Shipping rates will vary based on the size and weight of the item(s) and the destination.
Expedited shipping options are available for an additional cost.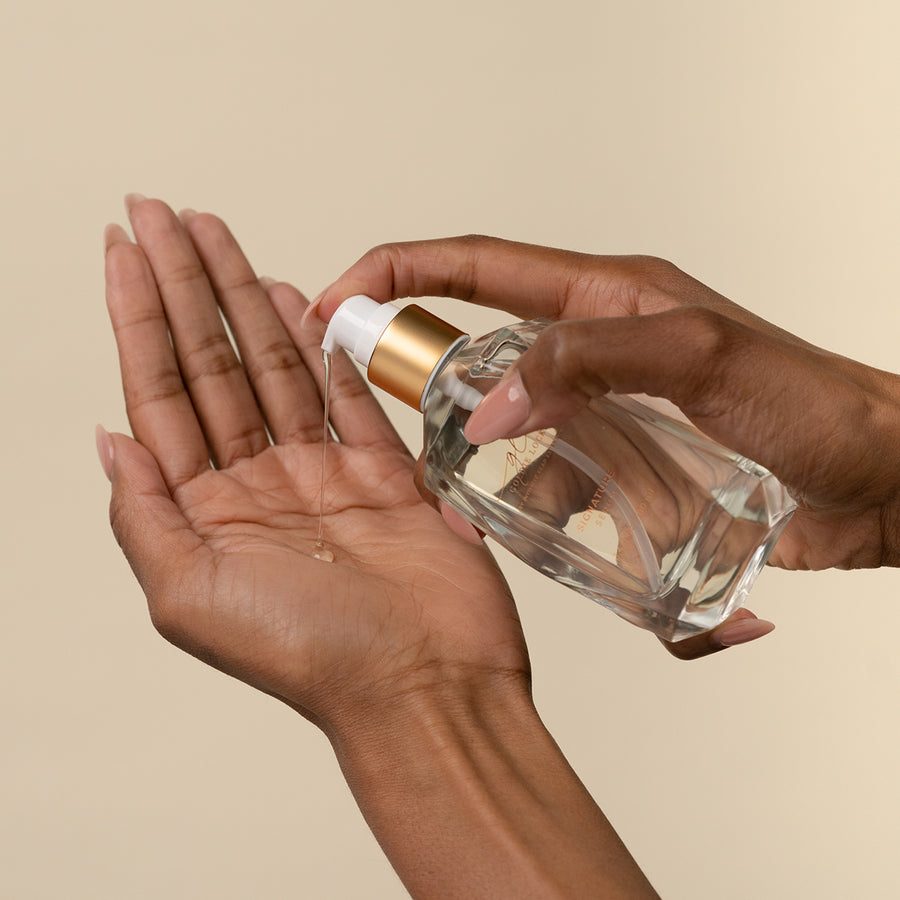 Unlock Hair Radiance
Discover the secret to instant hair transformation. Our Signature Serum isn't just a product; it's a potent potion that rejuvenates, revitalizes, and reveals the best version of your hair, no matter its type or texture.
Restore & Transform: Mend split ends, strengthen strands, and bring life back to dehydrated hair.
Instant Radiance: Say goodbye to frizz and hello to a shine that makes every strand stand out.
Fast Absorbing & Featherlight: No residue, no heaviness, just pure hair magic.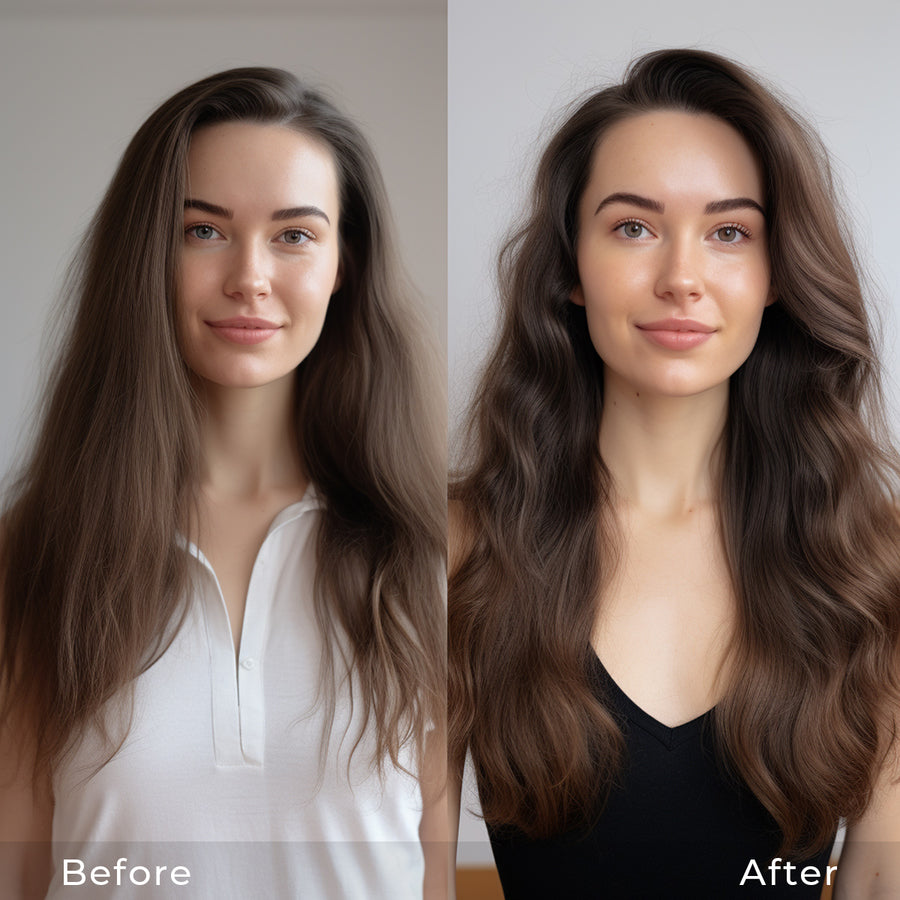 Universal Hair Elixir
Every strand deserves the best. Our serum's universal formula ensures that whether you have curls, waves, straight hair, or extensions, you're covered.
Intense Nourishment: Dive deep into hydration, restoration, and protection.
Universal Hair Hero: Crafted to deliver exceptional results for every hair type and texture.
Extension Approved: Add life and vibrancy to both your natural locks and extensions.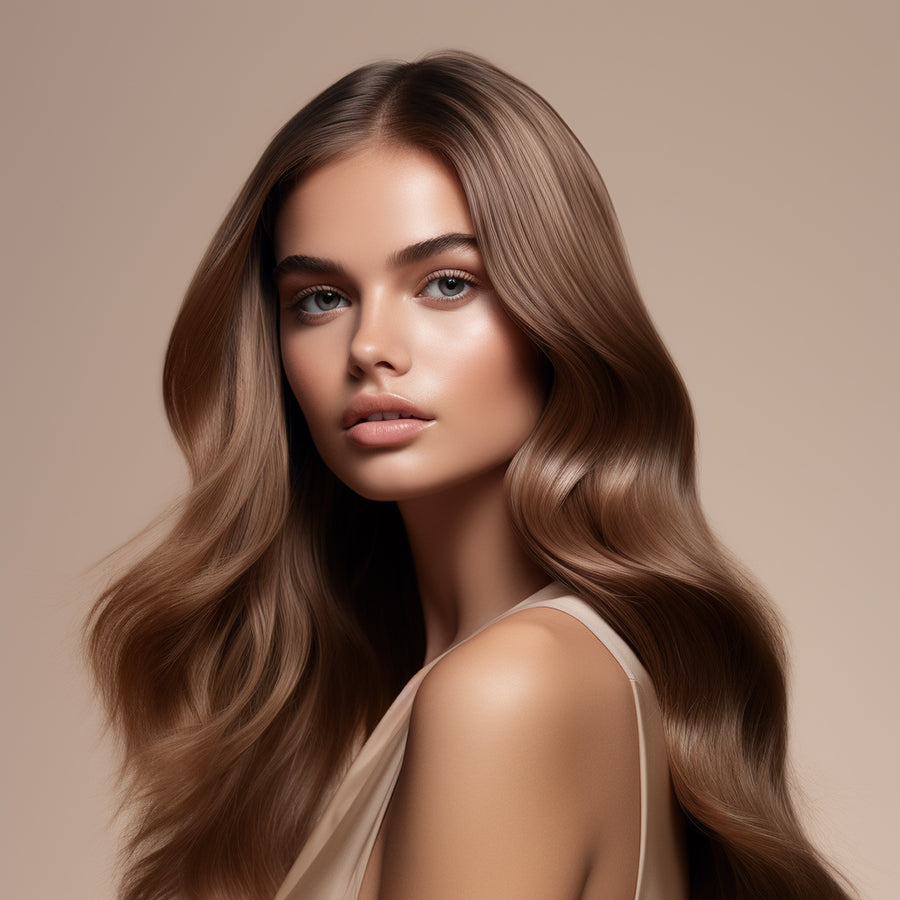 The Signature Experience
Step into a world where hair dreams come true. Our Signature Serum is more than just a product; it's an experience - a luxurious treat that your hair will thank you for.
Deep Dive Nourishment: Penetrate each strand's core for unparalleled hydration.
Silky Smooth Finish: Tame every flyaway, control every frizz.
The Shine Factor: Amplify your hair's natural glow and let it steal the spotlight.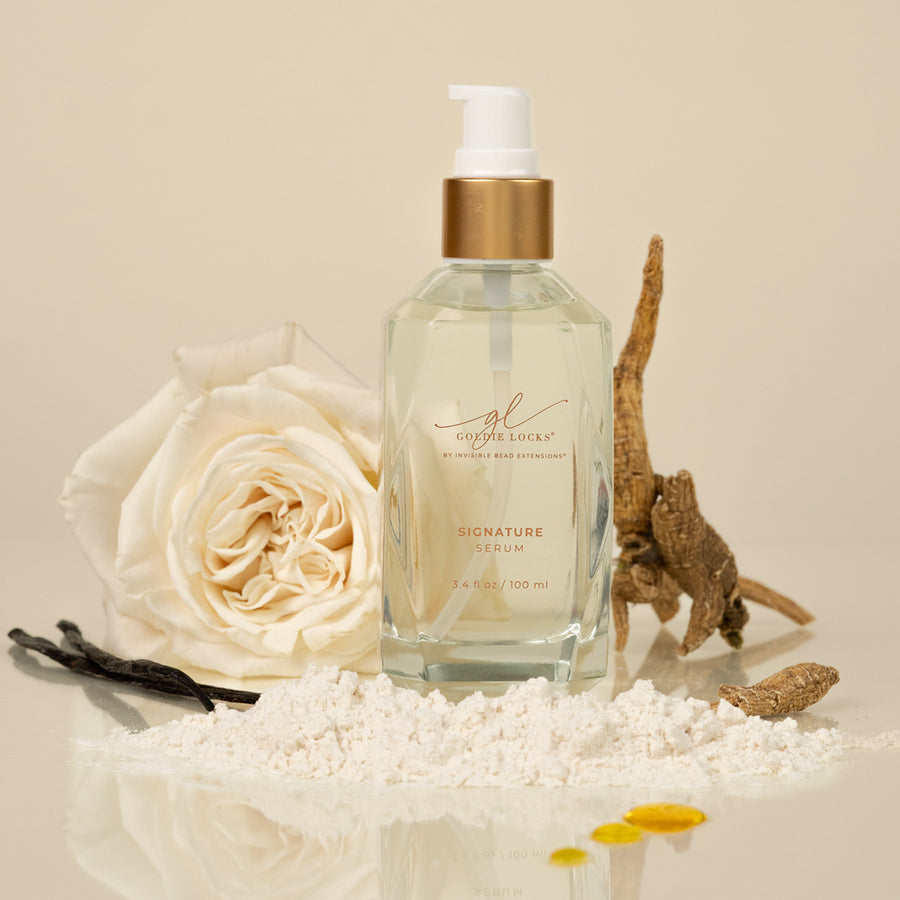 Elite Ingredients
Our signature complex, combined with a meticulous blend of other high-quality ingredients, ensures that your hair gets the royal treatment it deserves.
ROSE WATER: Boosts scalp health and minimizes oiliness.
VANILLA BEAN: Amplifies shine, combats frizz, and tackles dandruff.
WHITE TRUFFLE: Revives strands, protects hair, and rejuvenates dry locks.
MARULA OIL: Lightweight, fortifies hair, and adds shine.
BIOTIN: Boosts keratin and accelerates follicle growth.
GINSENG: Strengthens hair, reduces hair loss, and promotes growth.
Sulfate Free

Paraben Free

Phthalates Free

Gluten Free

Cruelty Free
Make It A Bundle + Save More
Questions
A hair serum can benefit your hair's elasticity, which is its ability to stretch and contract without breaking, as it does help to strengthen individual hair strands. Hair serum is also great for bringing surface hydration to keep frizz at bay and add incredible shine.
Generally hair serum is great to use in three different ways: For extremely damaged hair you can apply this on dry, dirty hair before you shampoo and condition. On towel-dried hair prior to using direct heat or air drying your hair to tame frizz and fly-aways.Apply this after your style is complete on dry hair to mend split ends, add shine and add a layer of environmental and UV protection.
Depending on how fine or thick your hair is, as well as how dehydrated your hair is, will determine how much hair serum should be used. As a rule of thumb, start with one pump for fine hair and work your application up from there. Remember it is always easier to add more oil than to take it away. If you are unsure, start with one pump, rub your palms together and then work the product through your ends. If you feel your hair feels near the same as before, double the application.
Goldie Locks Signature Serum was formulated with fine, thin hair in mind, while providing effectiveness for coarse and thick hair textures. This serum will give you all the benefits of a hair oil, without weighing your hair down.
Yes! A hair serum is absolutely essential to keep the luster and softness of hair extensions. Use a serum for ultra manageable and youthful looking hair that you expect from hair extensions.
Hair serum will soften your curls to the touch while combating frizz by delivering moisture. It is a great product to add shine and luster with a more manageable finish.
If you are needing a scalp oil treatment you can use Goldie Locks Signature Serum on your scalp followed by a stimulating scalp massage. This is beneficial for those suffering from dandruff, dry and itchy scalps. Use this serum after cleansing with Goldie Locks® Ultra Hydrating Signature Shampoo and Conditioner for best results. When you are utilizing hair serum as a styling product, avoid direct contact with your scalp focusing more towards your ends (the most dehydrated area of your hair).
Hair serum will help restore hair's elasticity that could have otherwise been jeopardized during your color and highlighting service. It adds nourishment to each hair strand and you will also see that it preserves hair color for longer lasting salon results.
Hair serum contains ingredients that can help defend your hair from direct heat while bringing essential nourishment to each strand of hair.
Protein-sensitive hair is hair that is extremely sensitive to the effects of protein (the ingredient) in hair products. When hair is exposed to too much protein you actually cause more harm than good and will begin to experience negative results such as dry hair, dull hair, and breakage.
Follow these steps: After getting out of the shower do not apply any styling products Allow hair to air dry with minimal effort, i.e. brushing through Feel the texture of the hair once dried Once your hair is dry and you try to brush through it, you will notice that your hair is protein sensitive if you experience breakage and/or split ends. Also, if your hair feels hard, rough, or dehydrated, it's likely that your hair has been exposed to too much protein, resulting in damage to your hair.
Protein-sensitive hair is hair that is extremely sensitive to the effects of protein (the ingredient) in hair products. When hair is exposed to too much protein you actually cause more harm than good and will begin to experience negative results such as dry hair, dull hair, and breakage.
Protein on your hair extensions will dehydrate them quickly and prematurely, leading you to dry, brittle hair that becomes unmanageable as well as breakage. This is due to the chemical processing your hair extensions go through before getting to you. This process can melt away your hair's natural hydration barrier, the cuticle. Therefore, protein tends to dehydrate hair on contact. Switching your hair care to protein free products will preserve your hair and prevent damage, as it works to supplement essential daily nutrients.