Lock in your signature look and extend the life of your style with our flexible hold, style memory hair spray. This flake-free formula repels humidity, boosts shine, and controls frizz, allowing for brushable, touchable hairstyles that last all day. Embrace the perfect balance of control and movement with our innovative Flexible Hold Hair Spray.
How To Use
Ingredients
Subscription
Shipping
View full details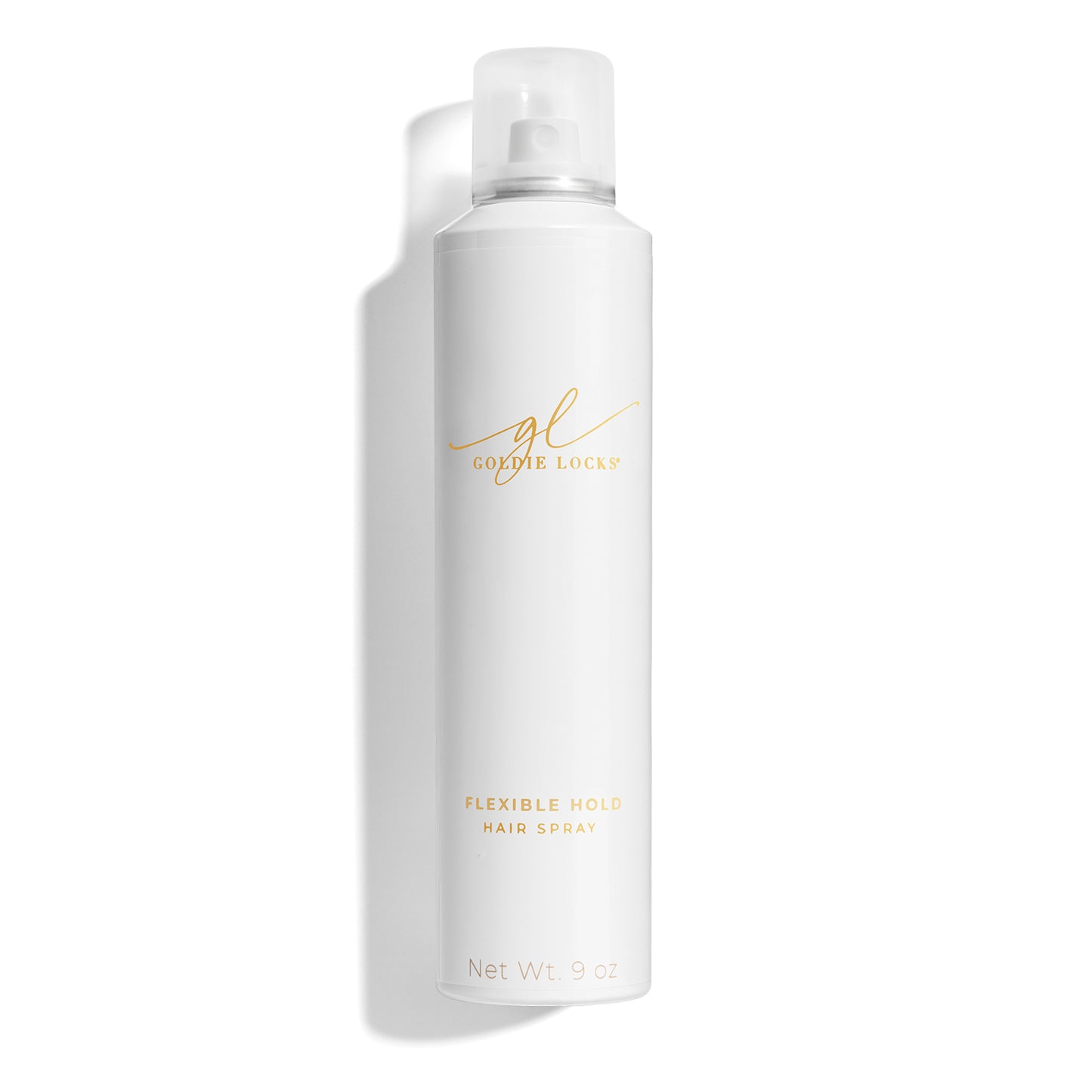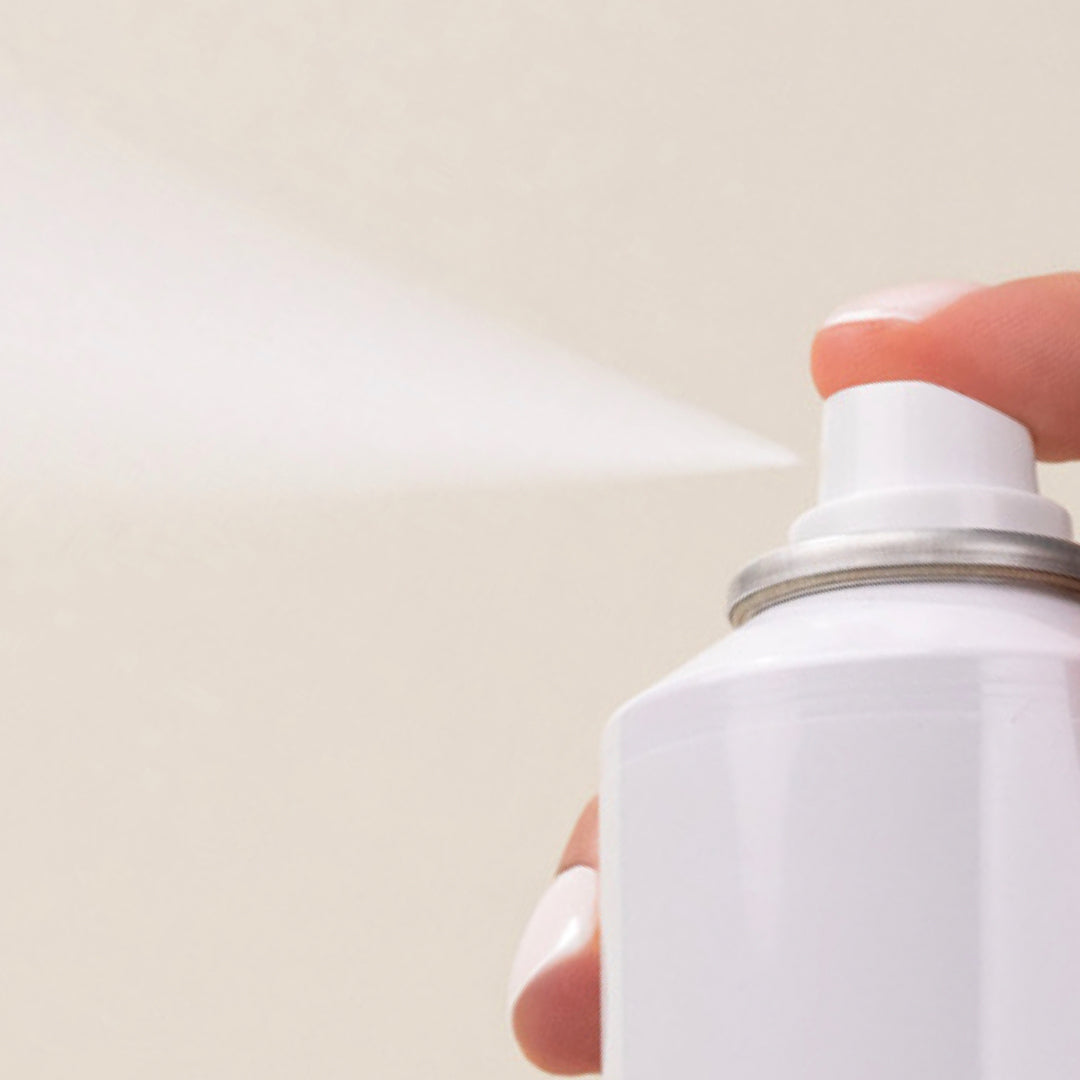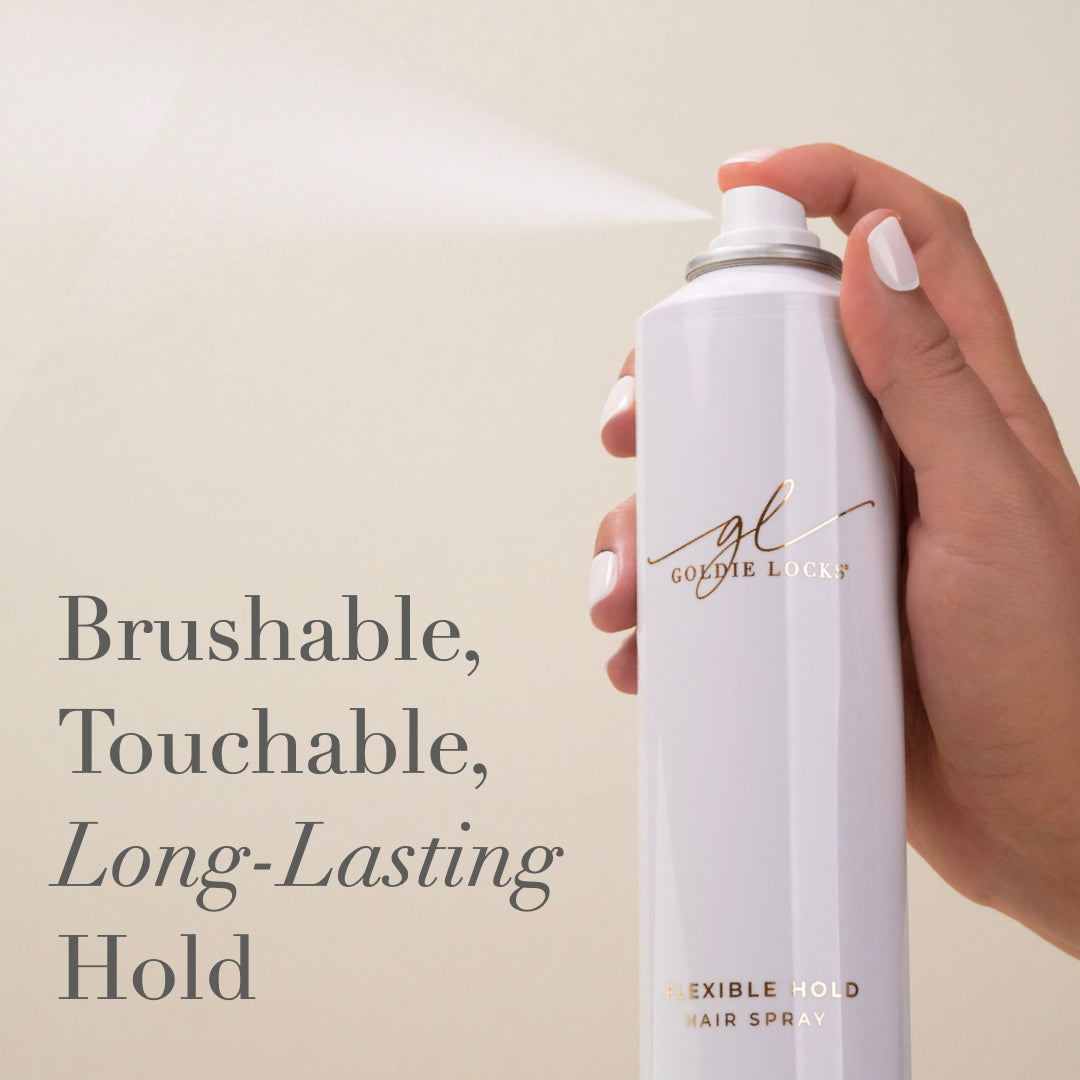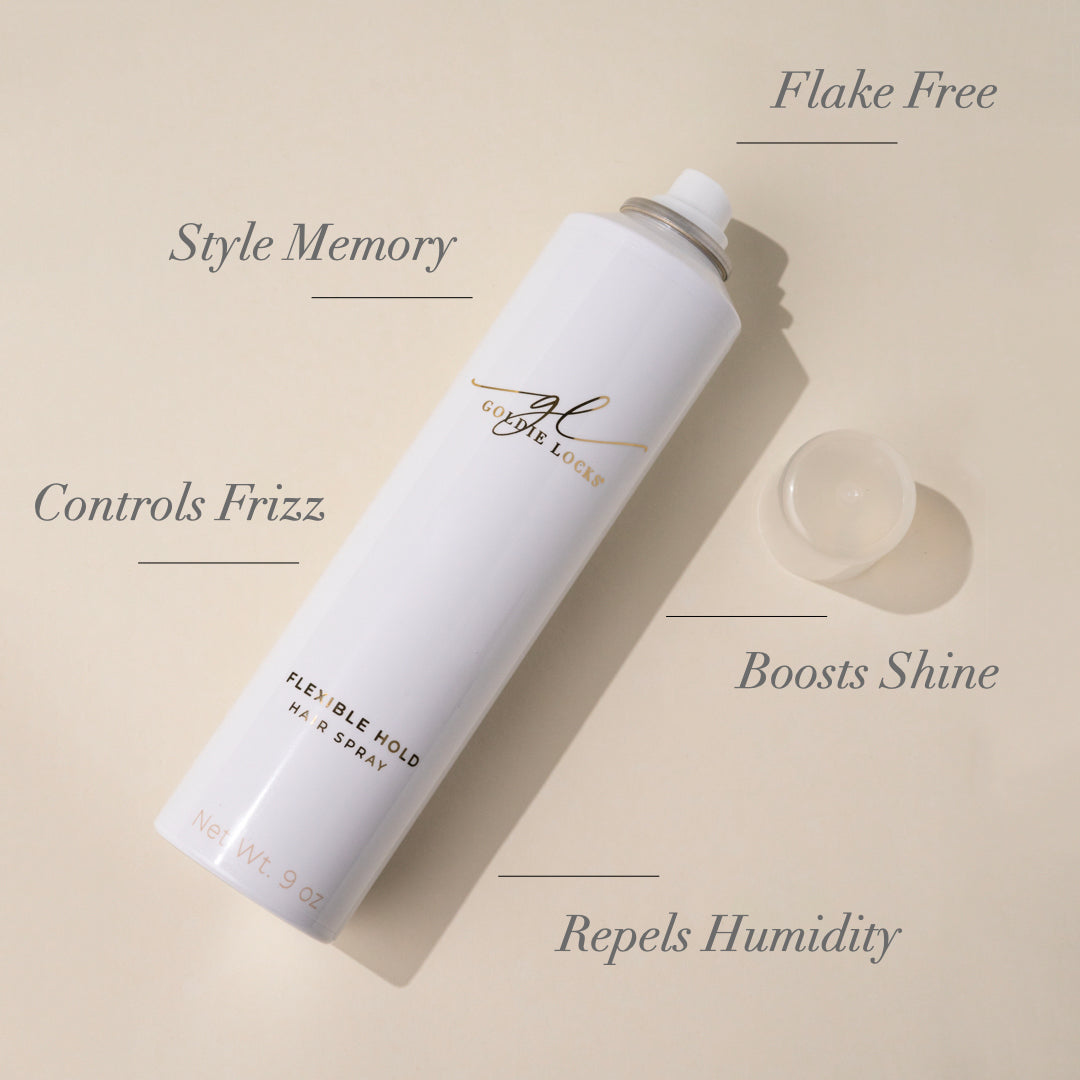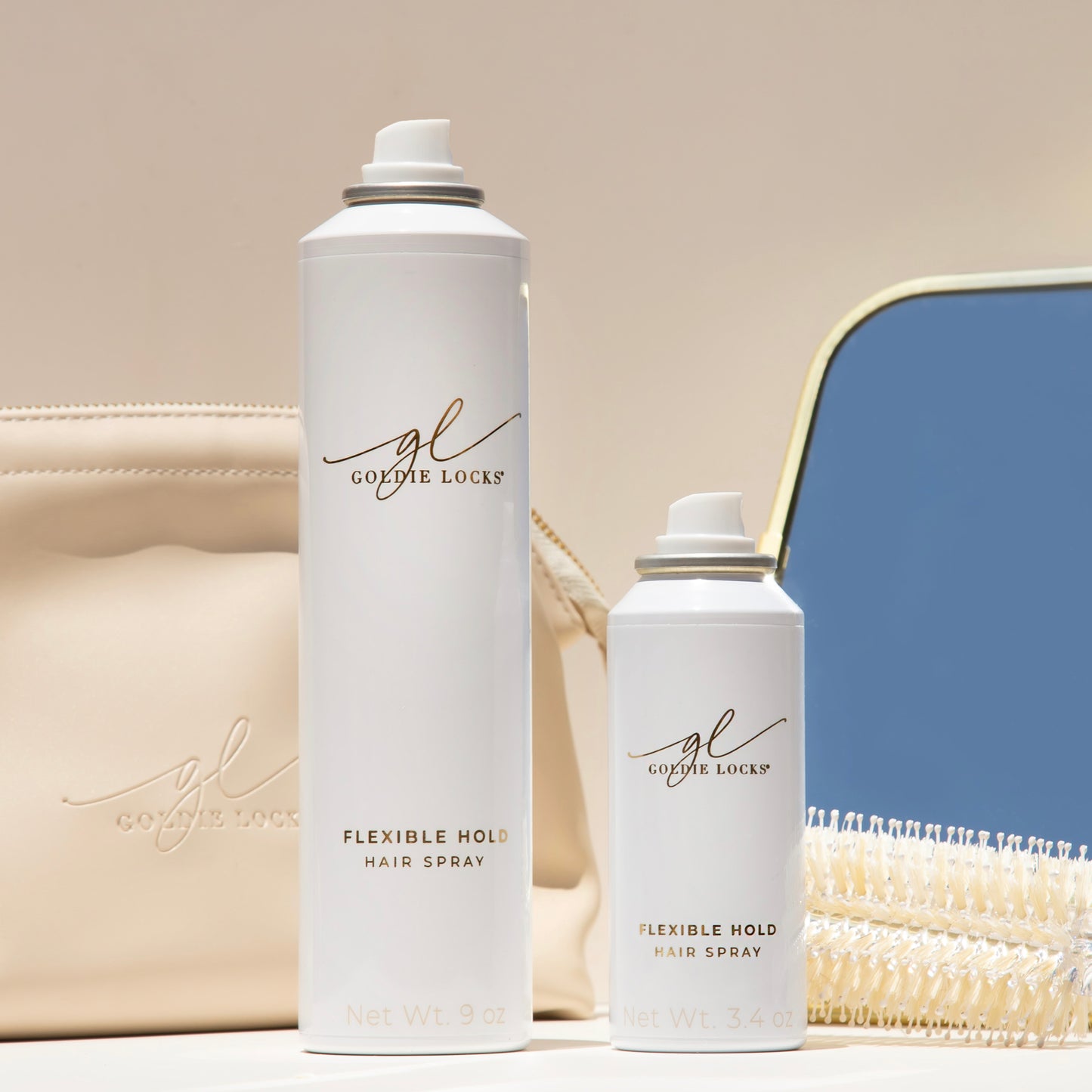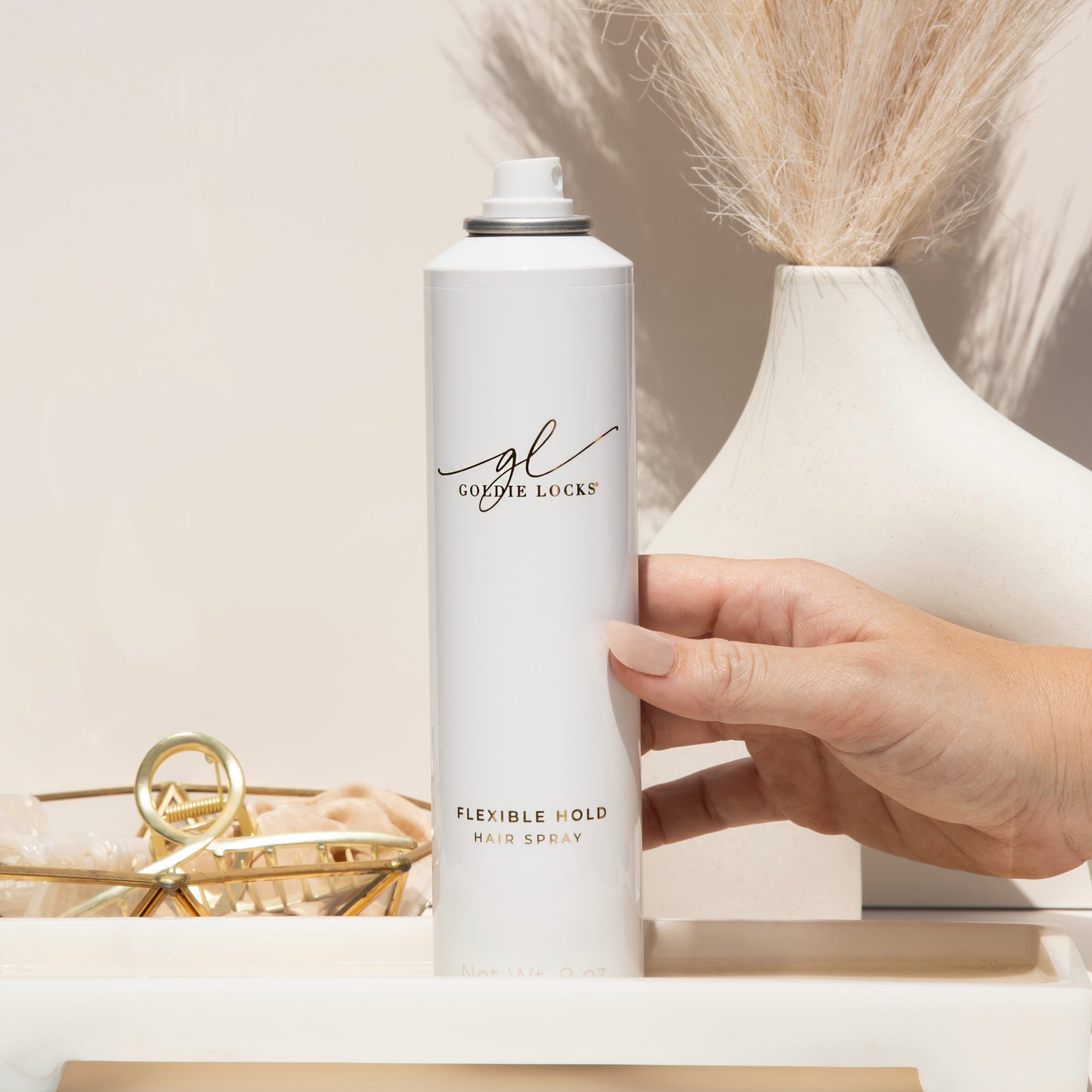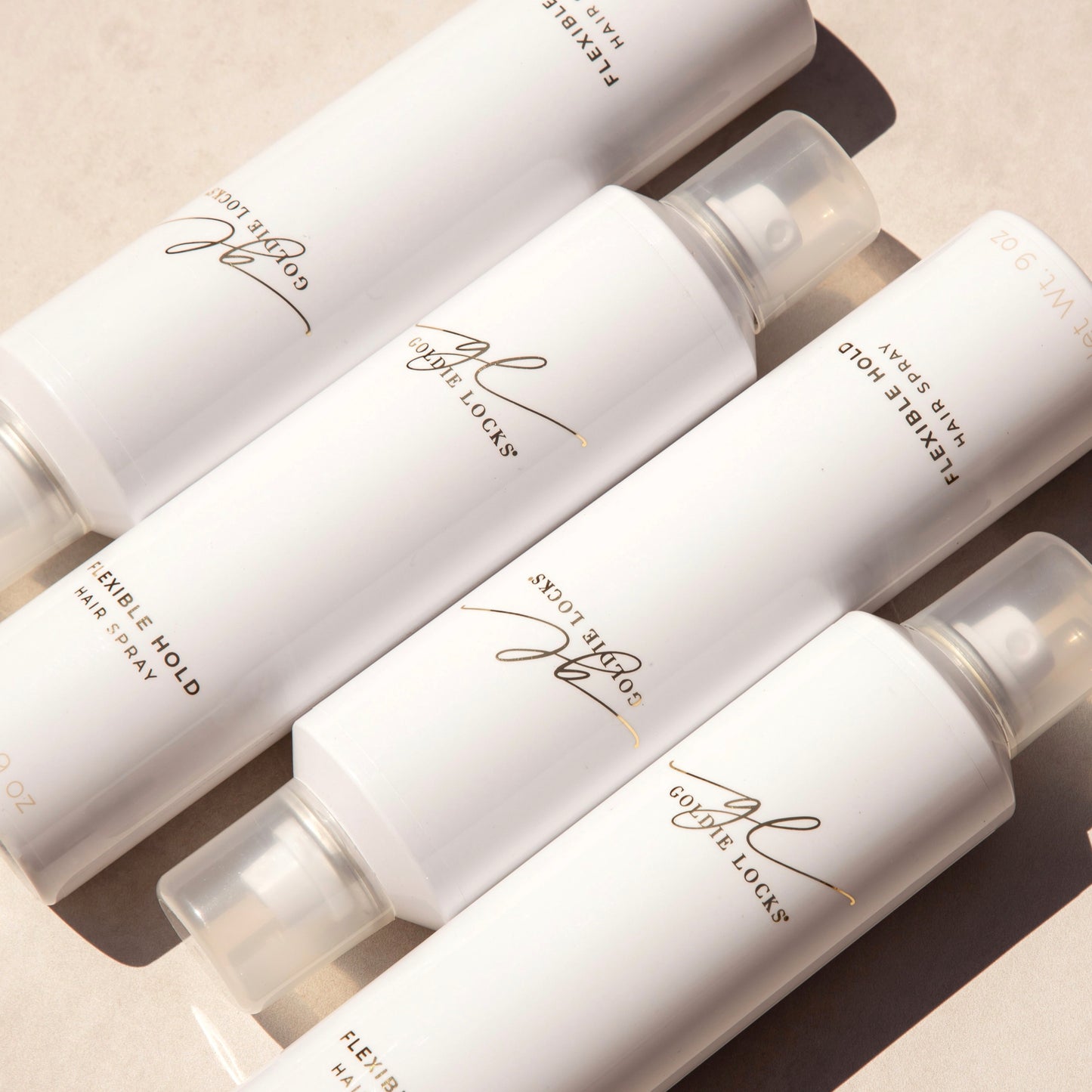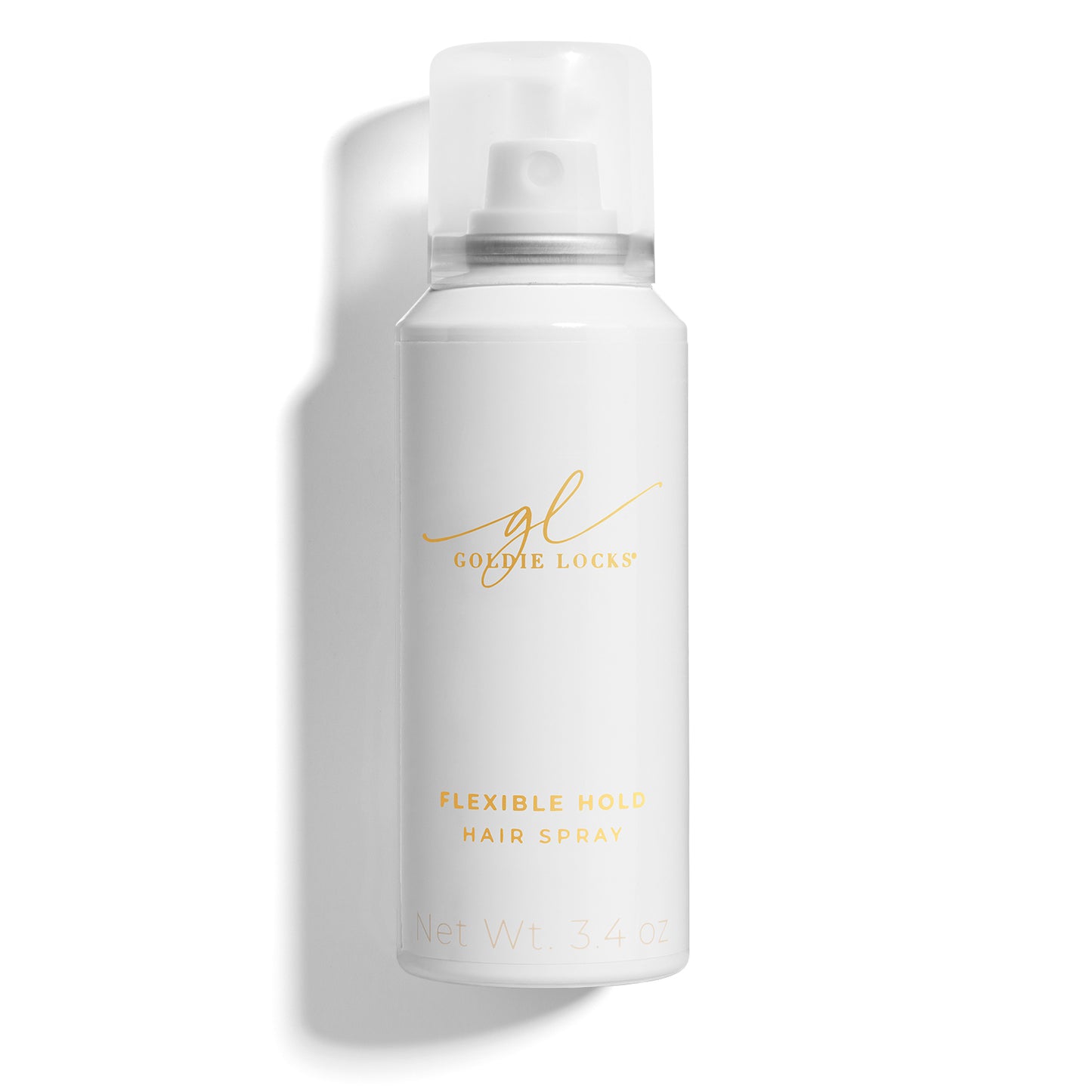 How To Use
Shake well before each use. To hold finished styles, hold 6-8 inches from dry hair, directed away from eyes, and spray in short bursts.
Ingredients
Alcohol Denat, Hydrofluorocarbon 152a, Polyurethane-14 (and) AMP-Acrylates Copolymer, Octylacrylamide/Acrylates/Butylaminoethyl Methacrylate Copolymer, Biotin, Panax Ginseng Root, Rosa Damascena Flower Water, Aminomethyl Propanol, Quaternium-95, Propanediol, Triethyl Citrate, PEG-12 Dimethicone, Glycerin, Water, Potassium Sorbate, Sodium Benzoate, Citric Acid, Fragrance, Benzyl Benzoate, Citral, Linalool
Subscribe + Save
How It Works
Choose your product and select 'subscribe + save'.
Easily manage your subscription by logging in to your account. Easily pause, skip, or cancel anytime.
Complimentary shipping on all subscription orders.
If you have opted for monthly subscription payments, Goldie Locks® will charge your credit card on file on the same day of every month. This generally will fall on the day that your subscription was originally created; the only exception would be if the payment was declined, and we had to retry the payment on a later date than usual. The next payment would still be taken on the original date, as your billing cycle remains unchanged. Monthly subscriptions are automatically renewed at the end of the billing cycle, to ensure a seamless experience.
You will also receive advanced email notifications at least 2 days prior to your billing cycle to inform you about the upcoming charge to your credit card on file. You may log in to your account to update your subscription settings.
Shipping
This item is only available in the US and Canada and may only be shipped via ground service.
Why You'll Love This Hair Spray
Style Memory

Brushable Hold

Repels Humidity

Controls Frizz

Flake Free

Boosts Shine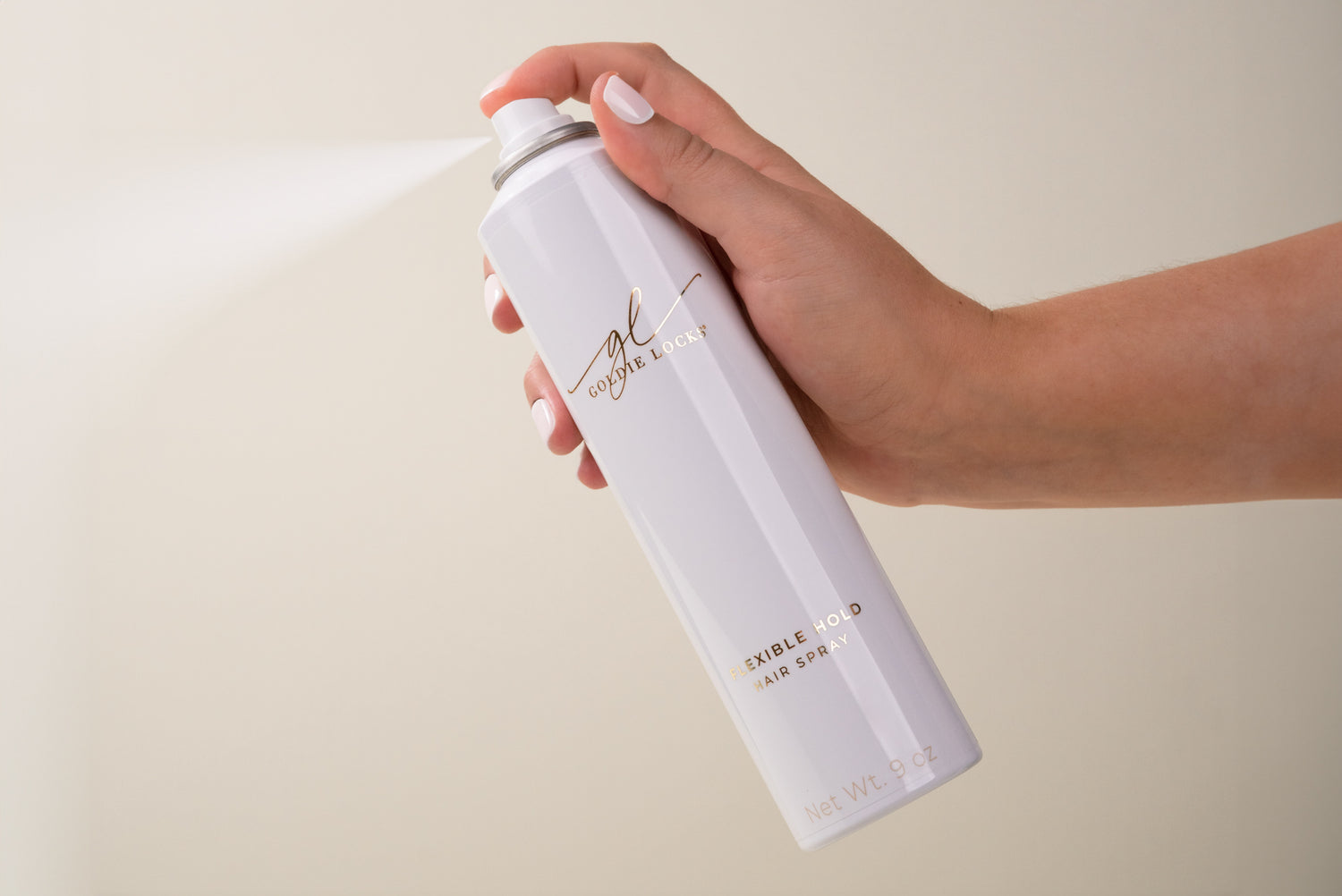 Resists Humidity + Frizz
Humidity Hero: Don't let damp air ruin your day - our hairspray creates a protective seal that repels moisture.
Frizz Fighter: Say goodbye to frizz and flyaways. Our hairspray locks in your style, keeping every strand in place.
Shine Enhancer: More than just defense, our hairspray boosts your hair's natural shine for that radiant look.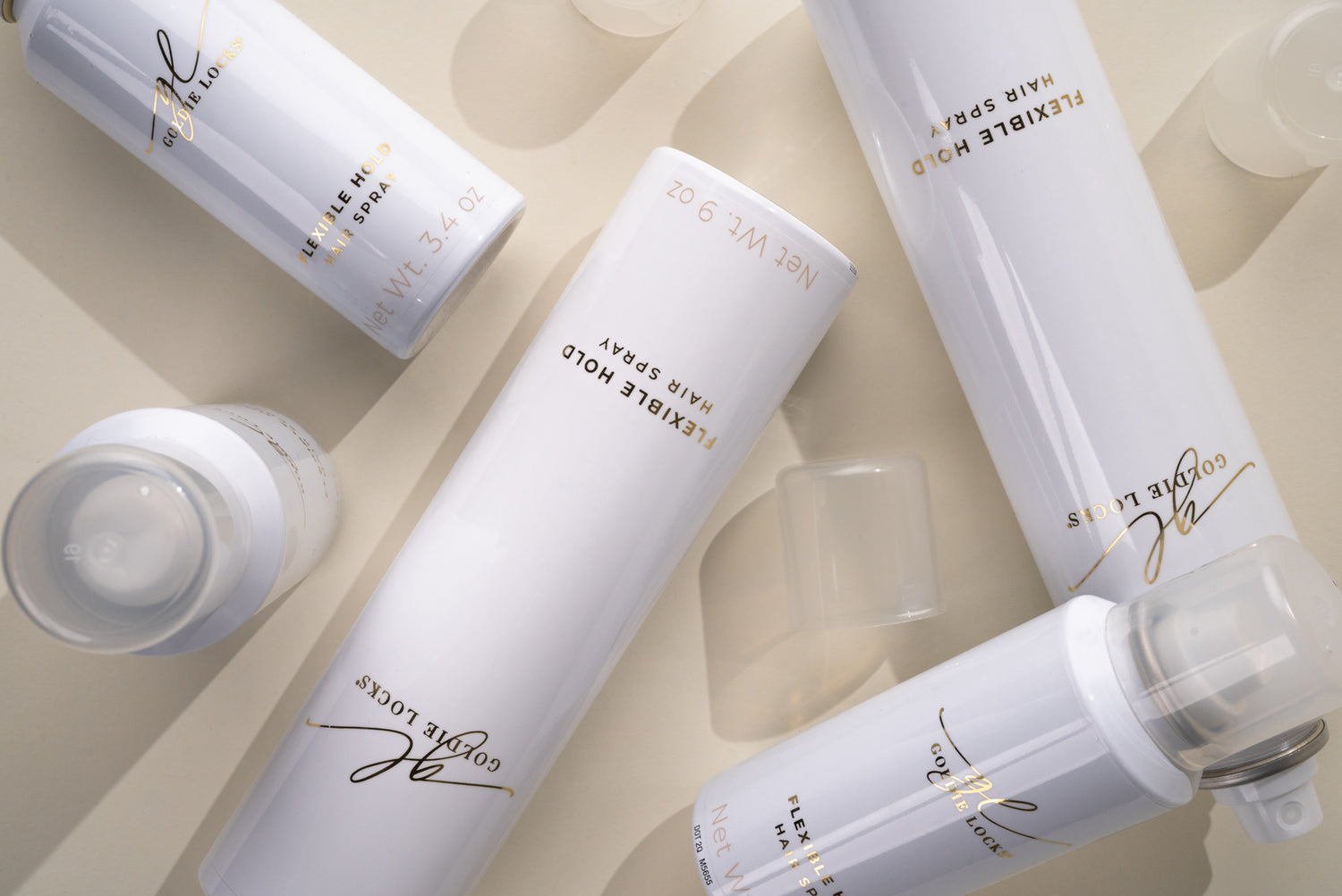 Style Memory That Lasts
Day-Long Hold: Styles stay fresh from morning to night with our specially formulated hairspray.
Workout-Proof: Survive high-intensity activities with your style intact.
Weather-Resistant: Brave the elements with unwavering hairstyle confidence.
Questions
WHAT DOES FLEXIBLE HOLD HAIR SPRAY DO FOR YOUR HAIR?
Flexible Hold Hair Spray is a versatile styling product designed to maintain your hairstyle while keeping it touchably soft and natural-looking. It combats humidity, manages frizz and flyaways, and imparts a glossy shine to your hair. Perfect for those who prefer a light, invisible hold that allows for style adjustments throughout the day, without leaving any sticky or flaky residue. It can be used before, during, or after styling for enhanced control and shine.
HOW DO I USE A FLEXIBLE HOLD HAIR SPRAY?
Using our Flexible Hold Hair Spray is simple and effective. Just hold the can 6-8 inches away from your head and lightly spray it over your dry, styled hair. For additional volume, apply it directly to your roots before styling, and layer as needed for your desired hold.
This hairspray is perfect for finishing off a sleek blowout, taming frizz, defining curls, securing updos, or creating soft, beachy waves. It adds light grip, buildable hold, and a shiny finish without making your hair feel sticky or crunchy. Plus, it's easy to brush through and restyle throughout the day. Whether you want to extend the life of your blowout, keep your curls bouncy, or add workable texture to your waves, our Flexible Hold Hair Spray has got you covered.
Finish Off a Sleek Blowout: After blow-drying your hair, hold the can 6-8 inches away and spray all over your hair. This light hairspray extends the life of your blowout, leaving your hair soft, smooth, and voluminous. You can easily brush through your hair and restyle the next day.
Say Farewell to Frizz: For frizz control, especially in windy, rainy, or humid conditions, a quick all-over spray is the solution. If you're aiming for a sleek style like a ponytail or bun, apply the hairspray to a toothbrush and gently brush any stray hairs into place for a flawless finish.
Create Shiny, Defined Curls: After curling your hair, clip up your curls until they're cool, then remove the clips and lightly spray with our Flexible Hold Hair Spray. This technique enhances the shine and hold of your curls without the stickiness. For natural curls, flip your damp hair upside down, apply the spray, and scrunch with your hands for a lightweight definition.
Build a Better Updo: Our hairspray adds light grip and buildable hold to keep your updo in place without looking stiff or over-styled. Apply the spray at the roots before upstyling and add layers as you work. Finish off with an all-over spray for extra shine and hold.
Level-Up Your Soft Waves: Achieve trending, carefree waves with our Flexible Hold Hair Spray. It provides workable texture, leaving your hair soft and natural. Spray directly at your roots, create loose waves with a curling iron, or twist small hair sections around your fingers. Keep applying and finger-combing through your waves until you achieve the perfect beachy look.
IS FLEXIBLE HOLD HAIR SPRAY GOOD FOR ALL HAIR TYPES?
Yes, Flexible Hold Hair Spray is excellent for all hair types! Whether you have fine, curly, frizzy, or even dry and damaged hair, our hairspray provides a weightless hold, imparts a glossy shine, and enhances manageability without causing any heaviness, grease, or crunchiness. Its universal appeal makes it an essential addition to any hair care routine, suitable for everyone looking to maintain their hair's style and health.
Fine Hair: For fine or thin hair, many avoid hairspray to prevent weighing down their delicate strands. But our Flexible Hold Hair Spray is air-light, offering weightless hold without any sticky residue. It can help maintain volume after a blowout or hold the shape of a braid or updo. Simply spray all over dry, styled hair or layer while styling.
Curly Hair: Contrary to popular belief, hairspray has many benefits for curls. It tames frizz, adds shine, and helps maintain curl definition. Our Flexible Hold Hair Spray is a lightweight spray that protects your curls from humidity while preserving your natural volume and movement. Just ensure to avoid water-based hairsprays, which can leave curls sticky.
Frizzy Hair: For those prone to frizz, our Flexible Hold Hair Spray offers a solution. It smooths your hair, tames flyaways, and offers a touchable finish that's easy to brush out and re-style. Simply spray it all over your dry hair after heat styling for long-lasting shine and smoothness.
Dry, Damaged, or Color-Treated Hair: Dry or damaged hair requires a hairspray that adds moisture and shine. Our Flexible Hold Hair Spray does exactly that, making dry hair smooth, soft, and shiny while fighting frizz and flyaways. Avoid sprays containing Ethanol alcohol, which can further dry out hair, and embrace nourishing ingredients that enhance your hair's natural vibrancy. Apply it after blow-drying to extend your style's lifespan and reduce heat exposure.
SHOULD I USE HAIR SPRAY BEFORE OR AFTER STYLING?
Flexible Hold Hair Spray is incredibly versatile and can be used both before and after styling. Using it before styling gives your hair extra grip and volume, particularly useful for updos or loose waves that require a buildable hold. However, its most common use is after styling to provide a shiny finish, control frizz, and maintain your style's freshness throughout the day. Simply apply directly to your roots for pre-styling hold, and a quick all-over spray post-styling ensures your look stays perfect all day!
WILL FLEXIBLE HOLD HAIR SPRAY WEIGHT MY HAIR DOWN?
No, our Flexible Hold Hair Spray won't weigh down your hair. It's specially designed to provide a light, soft hold that's perfect for all hair types, including fine or thin hair. Its formula is lightweight, so you won't even feel like you're wearing hairspray, yet it effectively maintains your style. So, you can enjoy touchably soft, perfectly held hairstyles without any greasy residue or heaviness.
WILL FLEXIBLE HOLD HAIR SPRAY MAKE MY HAIR HARD OR CRUNCHY?
No, our Flexible Hold Hair Spray won't make your hair hard or crunchy. It's designed with modern hair care technology that ensures a soft, natural hold. Unlike traditional hairsprays, our flexible hold hairspray offers a lightweight, ultra-fine mist that allows your hair to maintain its natural movement while keeping its style. You can even brush and re-style your hair after application. The result is naturally looking, beautifully styled hair with no sign of product use.
CAN I USE A FLEXIBLE HOLD HAIR SPRAY EVERY DAY?
Yes, you can use Flexible Hold Hair Spray every day. It's formulated to provide a weightless, flexible hold without leaving any sticky or flaky residue, making it a gentle choice for daily use. Remember, though, it's crucial to avoid using a heavy hairspray and then brushing your hair aggressively, as this could damage your hair. If you use a stronger formula hairspray for special occasions, gently brush your hair from ends to roots afterwards with a soft boar bristle brush.
WHAT IS THE DIFFERENCE BETWEEN A MEDIUM HOLD AND FLEXIBLE HOLD HAIR SPRAY?
The primary difference between medium hold and flexible hold hairsprays lies in the level of control they offer. Medium hold hairspray offers a stronger level of hold than flexible hold hairspray and is ideal for styles that require added volume and a bit more structure, yet still maintain some movement. It's perfect for taming flyaways and maintaining hairstyles that need a bit more stability.
On the other hand, flexible hold hairspray provides a lighter, more pliable hold that allows for a natural look and more movement. It's fantastic for hairstyles where you want to maintain a soft, touchable feel, such as loose waves or a casual updo.
So, while medium hold hairspray gives you a touch more control and structure, flexible hold hairspray emphasizes movement and a natural finish. The choice between the two ultimately depends on the style you're aiming for and your personal hair needs.
HOW DO YOU GET HAIRSPRAY BUILD-UP OUT OF YOUR HAIR?
When you find yourself dealing with hairspray buildup, a deep-cleaning solution like our Clarifying Detox Shampoo is the perfect remedy. This shampoo is specifically designed to detoxify your scalp and hair strands by removing excess build-up, oil, and other impurities.
Here's how to use it:
Apply the Clarifying Detox Shampoo to wet hair and work into a rich lather, focusing on the scalp and roots where product buildup is most likely to occur.
Massage the shampoo thoroughly into your scalp and strands, allowing the deep cleansing formula to lift away any excess oils or hairspray residue.
Rinse the shampoo out of your hair completely. You may notice your hair feels cleaner and lighter immediately!
For the best results, we recommend using the Clarifying Detox Shampoo once every other, or more frequently if you use a lot of styling products.
The balanced pH formula ensures that your hair's natural health and shine are maintained, while the deep cleaning action leaves your hair soft, free from residue, and ready for styling. It's the ultimate way to reset your scalp and refresh your hair!
WHAT DOES THIS HAIR SPRAY SMELL LIKE?
If you've tried any of our Signature hair care products you'll know this scent very well. The amount of compliments we get from our Signature Scent is endless. If you haven't tried any of our Signature products, we highly recommend it! The scent is similar to the famous Volcano Candle from Anthropologie. We can describe it as tender pink grapefruit, refreshing sweet orange, cast with raw nectar and finishing notes of juicy lime.
IS THERE A TRAVEL SIZE VERSION?
Absolutely! We know how important hair spray is when you travel. We've made a travel friendly version for you to take wherever you go!